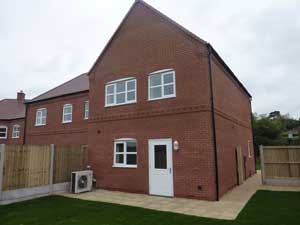 01 Dec 2014
Kingspan Environmental's Aeromax Plus air source heat pumps and Albion Aerocyl cylinders have been installed in a seven-house development created by BromfordDelopments Ltd in the village of Clifton Campville, Staffordshire.
The scheme, a mixed development of four affordable houses and three private properties, will have both their hot water and heating supplied by 8kW Aeromax Plus heat pumps.
The systems were designed by Coates Design; based on the builder's drawings, the team provided detailed plans including the placement of radiators and pipes within each building to deliver maximum effectiveness and efficiency.
The units were selected and installed by leading West Midlands-based plumbing and heating contractors, Central Plumbing and Heating Services Limited. Technical Director,Alan Hopkins, says: "Whatever technology our company specifies carries our reputation with it, so we choose our system manufacturers with care.
"I've had a long association with Kingspan Environmental and am therefore familiar with the high-quality of their products. In this instance, the system we have supplied is very cost-effective and, as an added bonus, has proved to be the easiest air source heat pump we've fitted. We'll definitely be using Aeromax Plus and Albion Aerocyl cylinders again."
Malcolm Lowbridge, Director of Construction for BromfordDevelopments Ltd, comments: "It's a case of all boxes ticked and everyone being happy. The plumbers found them easy to install and once in place they look good and are relatively compact.
"So far, they have performed very well in keeping all the houses nice and warm. In summary, we would definitely use them again."
Adrian Gatford, National Key Account Manager for Kingspan Environmental, says: "New build social housing development are routinely specifying renewable technologies to provide properties with energy and heating. While this demand is probably driven by environmental legislation and building assessments, it's proving to be very well-liked because of the associated reduced costs, low noise levels, and the removal of the need for a boiler. The fact that we can offer a supply and design service is also a definite plus.
"The Aeromax Plus has quickly developed its own loyal fan base because of its strong and reliable performance, ease of installation, and the wide range of its applications, from domestic to commercial installations. Aeromax Plusis also effective at air temperatures down to minus 20OC so it is suitable for properties right across the country, even in the remotest northern locations."
Aeromax Plus domestic range of MCS-accredited heat pumps provides a comprehensive range of outputs from 4kW to 15kW all in neat compact sizeswith low sound.
For more information on how CDP can add value to your building project, contact us at info@coates-design.co.uk.