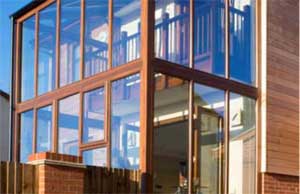 10 Dec 2014
Eco-friendly home development Greenfields, in Hampshire, has installed Kingspan Solar flat plate panels on each of its 75 houses. The 'in-roof' solar thermal panels, which have been specifically designed to operate in Northern European climates, service each property's hot water requirements all-year-round, ensuring carbon emissions and energy costs are kept to a minimum.
The Greenfields site, which overlooks the River Test, is nearing completion and is already home to more than 60 people. The large-scale solar thermal installation is one of many sustainable elements of the 75 plots, which comprise two, three and four-bedroom houses, including 22 affordable homes. From two-storey sun rooms, softwood timber frame construction and rainwater harvesting systems to CFC-free insulation, each property has been designed from top to bottom to be a model of energy efficiency.
Developed by David Wilson Homes Southern, the eco-properties were designed and built to balance environmental performance with stylish living. Comments Commercial Director Richard Palmer: "This site is a real sustainable asset for the area and not only do these homes allow homeowners to live greener lifestyles, they look impressive too. Renewables are now a must have when it comes to meeting government carbon reduction targets, which is why we opted for solar thermal panels. Solar technology was a new concept to us when we began this project but having now witnessed the results, we're incorporating it into nearly all of our new developments."
The south-facing Greenfields homes were fitted with Kingspan Solar flat plate solar panels, which are both cost-effective and provide excellent levels of efficiency and performance. The 'in-roof' panels were mounted directly onto the roof battens, which were then tiled up to the cassette, not only to provide a weather-tight installation, but also to maintain the integrity of the roof itself.
The flat plate panels form part of a complete package from Kingspan Solar, including Range Tribune HE Solar cylinders, which have been designed specifically with solar applications inmind. Featuring a purpose-designed solar coil, which allows maximum heat transfer of solar energy to the stored water, the unvented stainless steel cylinders complement the solar panels perfectly. They also ensure the homes' low literage baths fill fast, that the showers are powerful and that there is minimal loss of performance when more than one tap is being used at the same time.
Continues Palmer: "We worked closely with CDP to ensure we had the best, bespoke package solution for each of the homes at Greenfields. Price and efficiency were at the heart of our decision, which is why the Kingspan Solar panels were such a good fit. They are cost effective, and not only fit aesthetically with the modern feel of the new buildings, but also deliver optimal results all-year-round."
For more information on how CDP can add value to your building project, contact us at info@coates-design.co.uk.