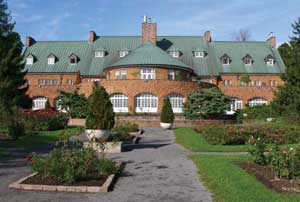 11 Dec 2014
A major project to build 35 care homes over a two-year period has kicked off with the installation of 300 Kingspan solar thermal vacuum tubes across two sites in Liverpool and Nottingham.
The large-scale project is seeing one of the UK's leading care homes builders, LNT Construction (which builds social care homes for its Ideal Care Homes company) build 35 new homes across the Midlands and the North of England. Each of the new homes are being equipped with Kingspan Solar's market-leading Thermomax solar thermal vacuum tube collectors, which will contribute to each home's hot water requirements. The two 15m2 installations at Hurst Park Court in Huyton and Fairway View in Bullwell mark the start of the extensive new build development.
Leeds-based LNT Construction, the building arm of the LNT Group, specified the solar thermal tubes to help consistently provide hot water for the homes, and comply with SBEM and Part L Building Regulations. The 150-tube installation at each of the first two sites feed into pre-heat systems to meet the homes' domestic hot water needs, including those of their combined 82 en-suite bedrooms. Across the two sites, the installations are expected to contribute 16.71MWh to the care homes' hot water systems annually, helping avoid a significant 3,242kg of carbon emissions.
LNT Group Mechanical Engineer, Tom Nutt, said: "When looking to integrate solar thermal technology into the project, we wanted to be able to provide readily available hot water for residents all-year-round. We originally looked into flat plate panels but after Kingspan's design team produced an in-depth T*SOL simulation, it was clear that Thermomax collectors would be the far superior choice, particularly in terms of performance. By opting for vacuum tubes, which are far more efficient than flat plate panels, we were able to reduce the square metre coverage on the roofs, whilst achieving maximum results. What's more, the tubes were installed by Shaun Boddington at Solar Save UK, a Kingspan Solar Accredited Installer, which means we were able to benefit from a 20-year warranty as well as top-quality workmanship."
Thermomax tubes from Kingspan are specifically tailored for Northern European climates and deliver an unrivalled transfer of solar energy into heat. The vacuum inside each tube provides high levels of insulation, protecting the system from outside influences such as cold weather. The sun's energy is collected quickly and efficiently so solar-heated water is always readily available – making the system perfect to meet large-scale hot water requirements. The HP200 tubes specified for the Ideal Care Homes project feature a unique temperature limitation device for system protection, as well as a dry connection between the collectors and their manifold. This means tubes can be easily fitted and replaced without the need to drain the system – allowing for easy maintenance.
Andrew Ogden, CDP Managing Director, says: "We're delighted that Thermomax HP200 tubes have been specified to meet the requirements of such an important, large-scale new build project. Not only has LNT Construction satisfied the stringent building regulations now in place for new build projects, but by using the latest design technology the team has found the optimum solution in Thermomax to meet the care homes' specific needs. This is a great example of how new build developments can integrate Renewables to help deliver significant cost and CO2 savings, and we look forward to seeing it roll out."
For more information on how CDP can add value to your building project, contact us at info@coates-design.co.uk.